Whale Alert Reports a huge transaction of 77,325 BTC from Binance to Unknown Wallets
The leading digital asset Bitcoin (BTC) is moving in an upward direction. The price value of bitcoin is up almost 20% at the time of writing. Meanwhile, 77,325 BTC has been transferred from the major crypto exchange Binance to unknown wallets.
Bitcoin started a rally from the $5000 level breaking above the $6000 zone and is now trading at $6,660.66 USD at the press time. After seeing this significant rise in the price value of the coin, some people think that this is the right time to buy Bitcoin. But some crypto investors think otherwise as they have started holding their bitcoins.
A major transaction of BTC worth $477,007,433
Whale Alert has reported another major bitcoin transaction. According to the report of Whale Alert, someone has transferred 77,325 BTC worth $477,007,433 from the crypto exchange Binance to anonymous wallets. This huge transaction consisted of two transfers one was a small transfer of 1200 BTC while the other one was a big transfer of 76,125 BTC.
An amount of 1000 BTC was moved from an unknown wallet to the crypto exchange OKEx as well.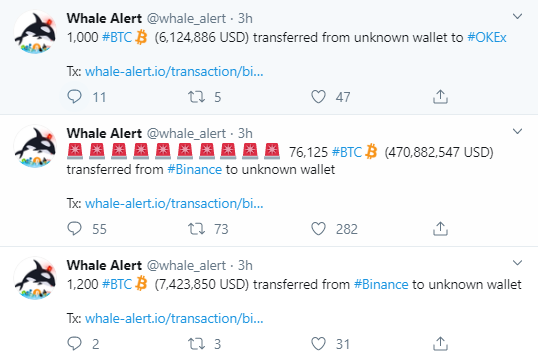 Apart from this, 14,000 BTC worth $78,120,000 was also transferred from the Huobi exchange to an unknown wallet via twelve transactions.
Binance CEO reacts to the transaction of 76,125 BTC
The CEO of the Binance exchange Changpeng Zhao has reacted to the transaction of 76,125 BTC reported by Whale Alert. While criticizing Whale Alert, Binance CEO says that the data that Whale Alert has shared is not accurate and confirms that the real transfer was $10,000 BTC.
However, while replying to Binance CZ, Whaler Alert said that this was not just a very usual transaction.