Chainlink (LINK) Jumped by 18% in the Last four days; Soon will gain $2.50
The crypto markets are performing even better than the past some weeks as if second-quarter comes with farewell for crypto assets. The altcoins are showing positive signals, but few coins are looking more bullish than others, such as Chainlink (LINK).
Since the start of the April, coin markets including Bitcoin are exposing bullish moves despite bearish trends in Financial stock markets. In mid-March, digital assets also affected badly as the leading asset Bitcoin lost half of its value since the beginning of the year.
Altcoins are even better in gaining bullish momentum and presenting a positive picture in technical analysis. Chainlink, the altcoin at 15th position in the ranking, is accumulating in its volume due to the buying pressure of crypto whales.
The analysis of LINK says that the next target of the coin is $2.50 while it is currently trading at $2.37, still behind its next immediate goal. The 4-hour chart reveals that cryptocurrency is accumulating by whales since March 30.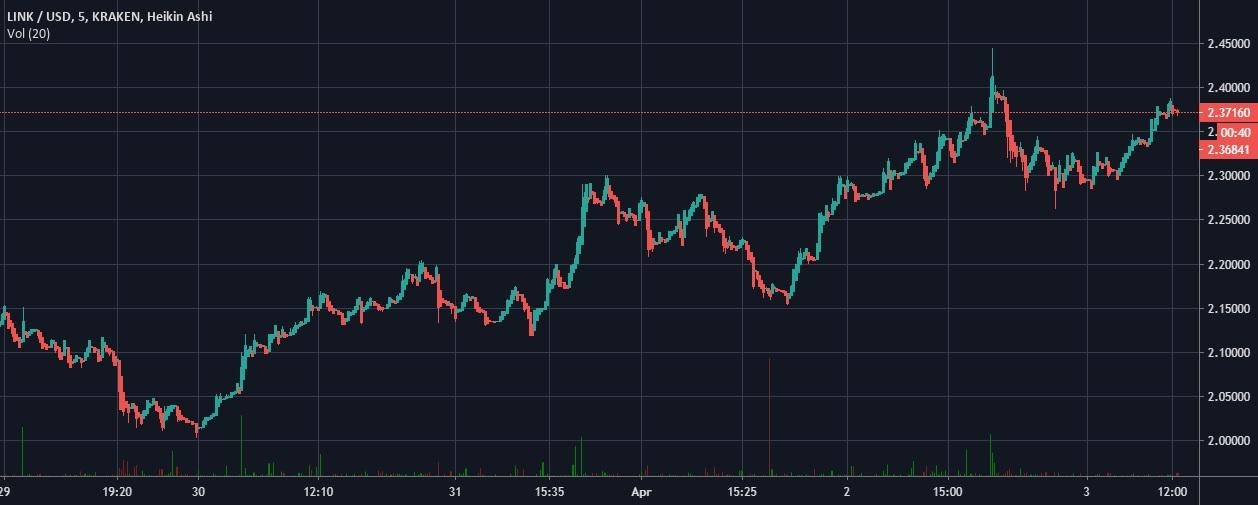 Since March 30, the Chainlink increased by 18% so far thus showing investors are interested in buying cryptocurrency rather than selling it despite global turmoil in the financial markets.
The next resistance level is holding at $2.50 which is soon achieved by LINK. If it becomes successful in overcoming the resistance at $2.50, the next goal of the coin will be at $2.75 that might be weak hedging against the trending line.
Recently, Celsius Network, the crypto lending site, partnered with Chainlink proposing a long-term partnership. Alex Mashinsky, the CEO of Celsius Network, said,
Integrating Chainlink's industry-leading decentralized oracle technology is the key step in the continued decentralization of Celsius. Partnering with Chainlink helps solidify our mission to bring revolutionary financial services to millions around the world.
Furthermore, we are honored to provide world-class treasury management for Chainlink, giving them secure custodial services and interest-bearing opportunities,
he added.